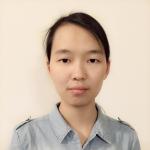 Biography:
I'm Wenchuan Wei, a graduate student at the Electrical and Computer Engineering (ECE) department of University of California - San Diego (UCSD). Before I came to UCSD, I obtained my Bachelor of Engineering degree in Electronic Engineering from Tsinghua University, Beijing, China in 2014.

I am currently working at the Mobile System Design Lab, under the supervision of Professor Sujit Dey.

My hobbies include reading, cooking, playing violin, watching movies, etc.