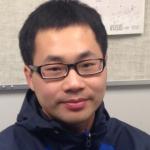 Biography:
I'm Weiheng Ni, a PhD student at the Electrical and Computer Engineering (ECE) department of University of California - San Diego (UCSD). I received the B.E. degree in Communication Engineering from Beijing University of Posts and Telecommunications, China, in 2012, and the M.A.Sc degree in Electrical and Computer Engineering from University of Victoria, Canada, in 2015. From 2015 to 2016, I was with Fortinet Technologies, Burnaby, BC, Canada and worked on the development of the FortiCloud system.

I am currently working at the Mobile System Design Lab, under the supervision of Professor Sujit Dey.

I'd love to go hiking when free. Video games, magic skills, Chinese flute are also my hobbies.